Paris Collection
Remember an age of vintage elegance?  A time when gentlemen wore tailored suits and ladies wore class and elegance as a measure of beauty. Each painting tells a unique story of a captured moment in that romantic city. A Collection of four Parisian themed paper art prints, canvas art prints, framed and unframed art prints. Based on the original oil on canvas paintings by Canadian artist Carm Dix.
Paris Collection - museum grade archival paper

Collect your favourites with confidence
The majesty of a Blue Jay is hidden within the beautiful flowers and reflecting pond.  Museum-quality art print made on thick matte paper. Add a wonderful accent to your room and office with this art print that is sure to brighten any environment.

• Paper thickness: 10.3 mil
• Paper weight: 189 g/m²
• ISO brightness: 104%


Storybook Collection
Imaginary and playful scenes make perfect artwork for the bedroom of any young storybook dreamer. A fun princess or magic dragon story captures the imagination of every child at heart.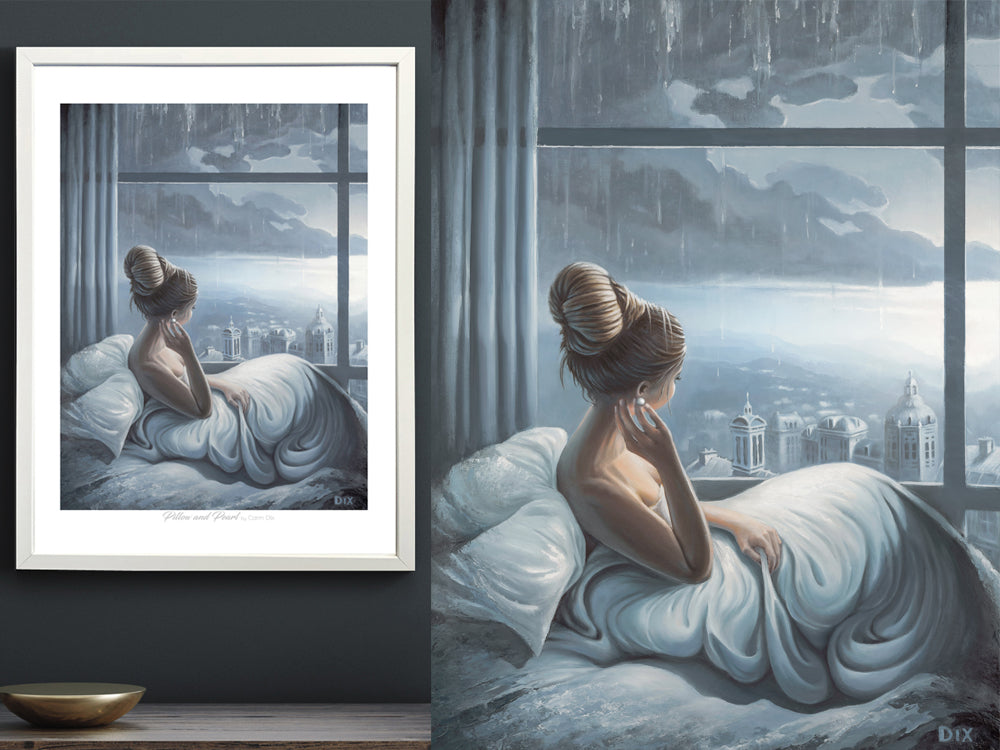 Pillow & Pearl
The first artwork released in a storybook series dedicated to the whimsy of the young at heart. Fall into the imaginary world created in the painting "pillow and pearl". Softness first captures you as you fade into the serenity of the breaking rain and a beautiful princess in reflective thought.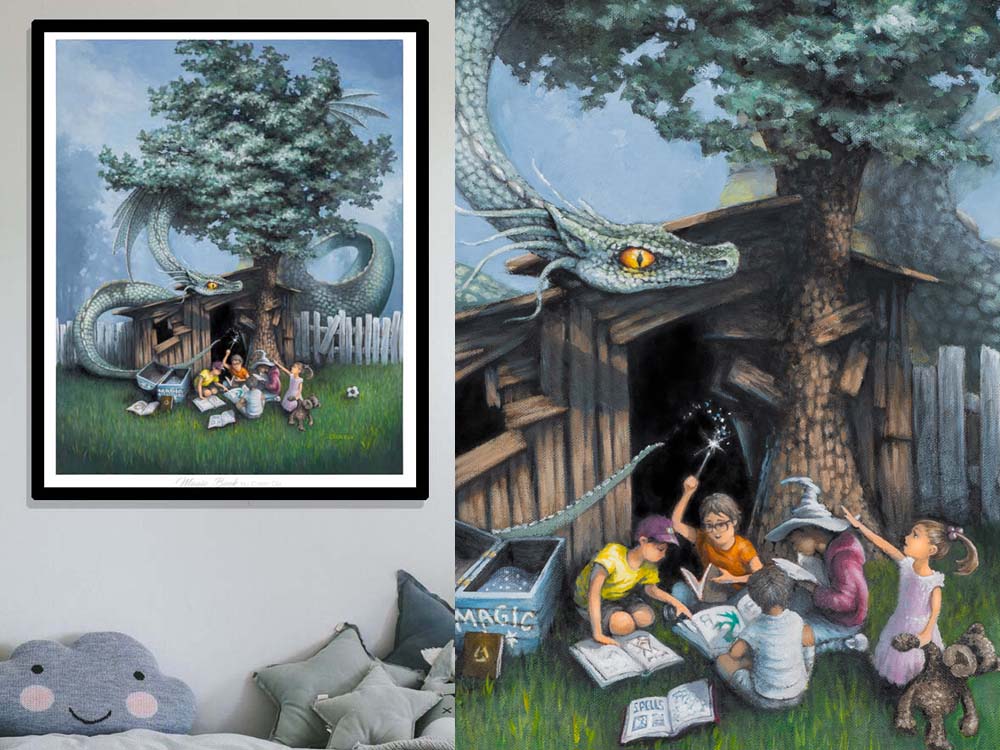 Magic Book
Dragons and magic fun for every young dreamer. While the boys are having fun with a newly found magic book, the young girl is the only one that notices the appearance of a magic dragon.
Vineyard Collection
Limited Edition Art Prints
Cardinals and grapes. Romance and wine. Inspired by the many seasons of Niagara's Vineyards including the celebrated winter "icewine", made from the frozen grapes of Niagara. Each Giclee art print is individually signed and numbered by the artist and never to be printed again (sold unframed).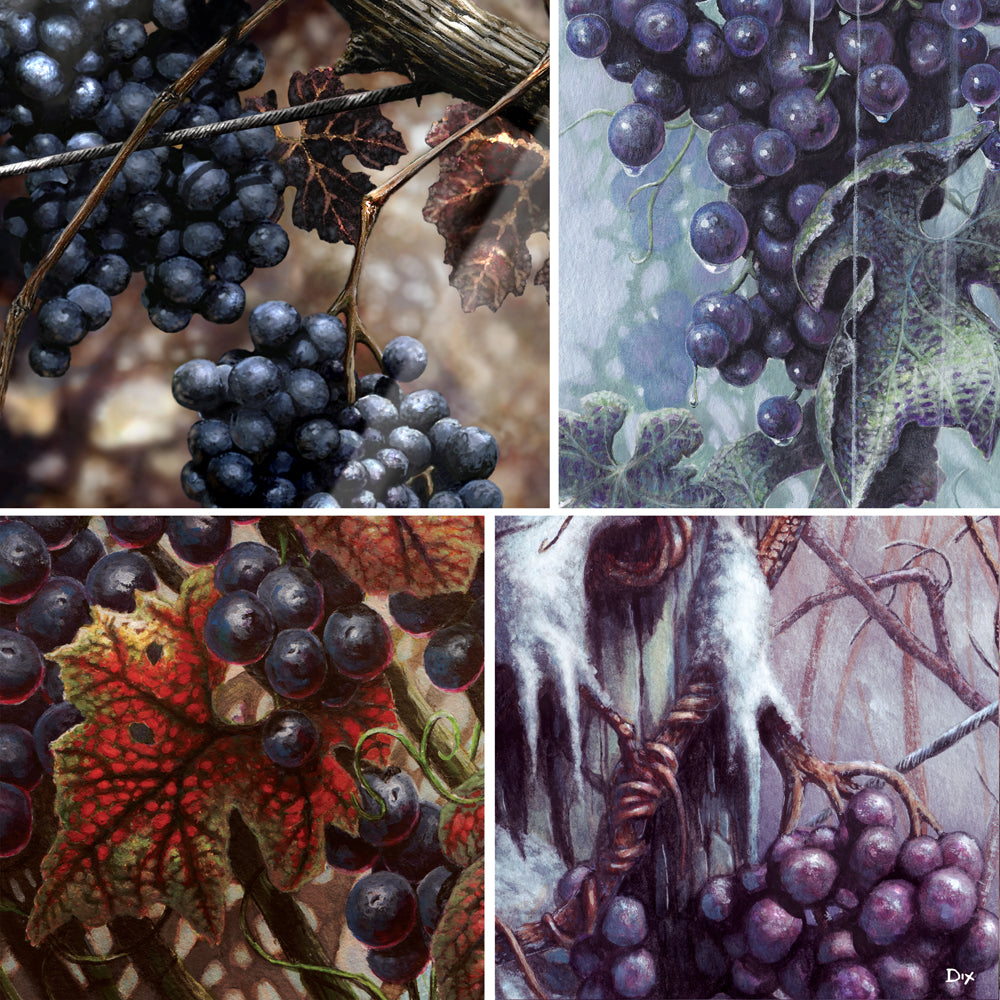 Vineyard Scenes on Canvas
A collection of 16" x 16" square canvas art prints each inviting the viewer into the closeup natural world of grapes in the vineyard.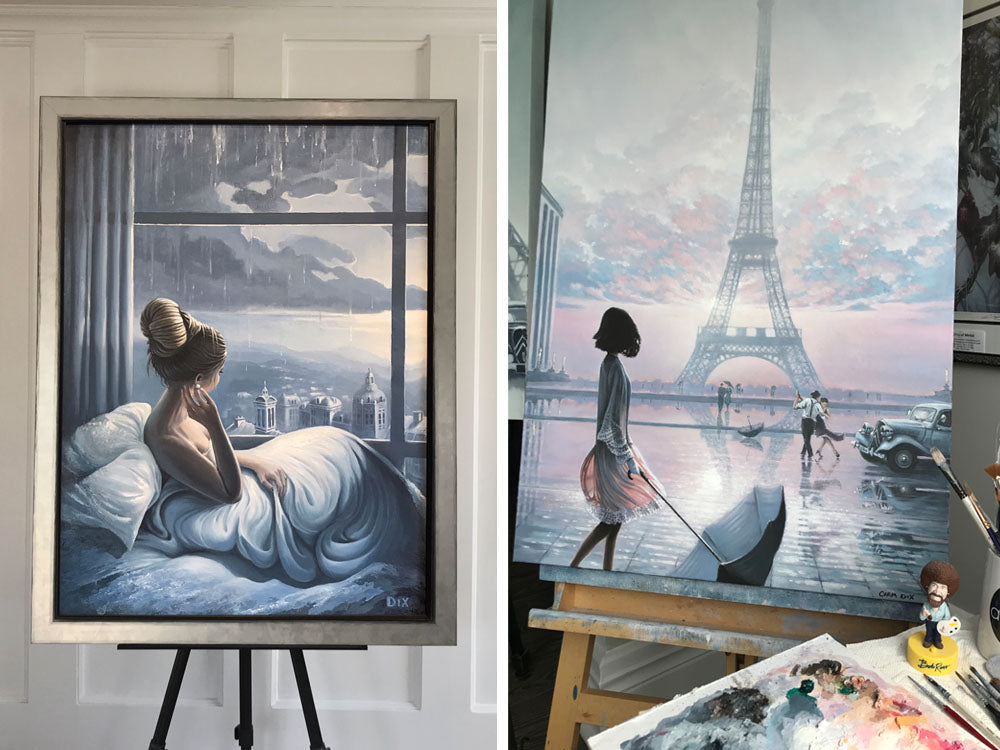 original oil on canvas paintings
please contact the art studio at carmdixart@gmail.com for information on original art sales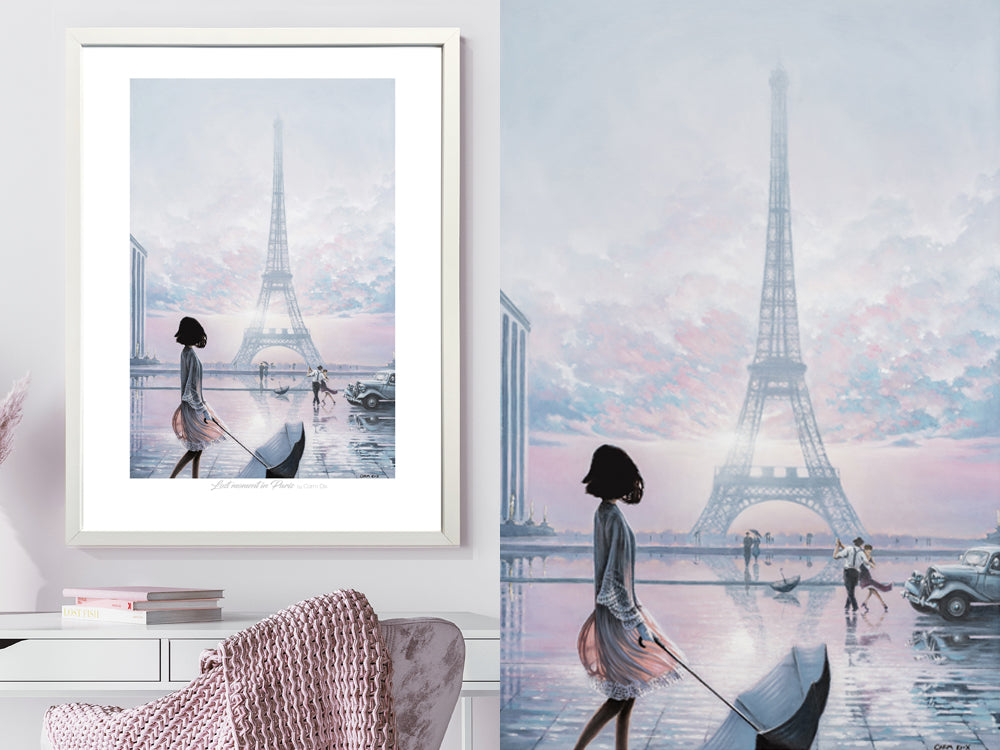 Lost Moment in Paris
Paris Collection
Lost in the sudden beauty of storm passed, a young girl stops in the soft sun and warm reflections as a couple parked and began to dance and celebrate a perfect moment.
Framed (black or white) and unframed giclée art prints available in 2 sizes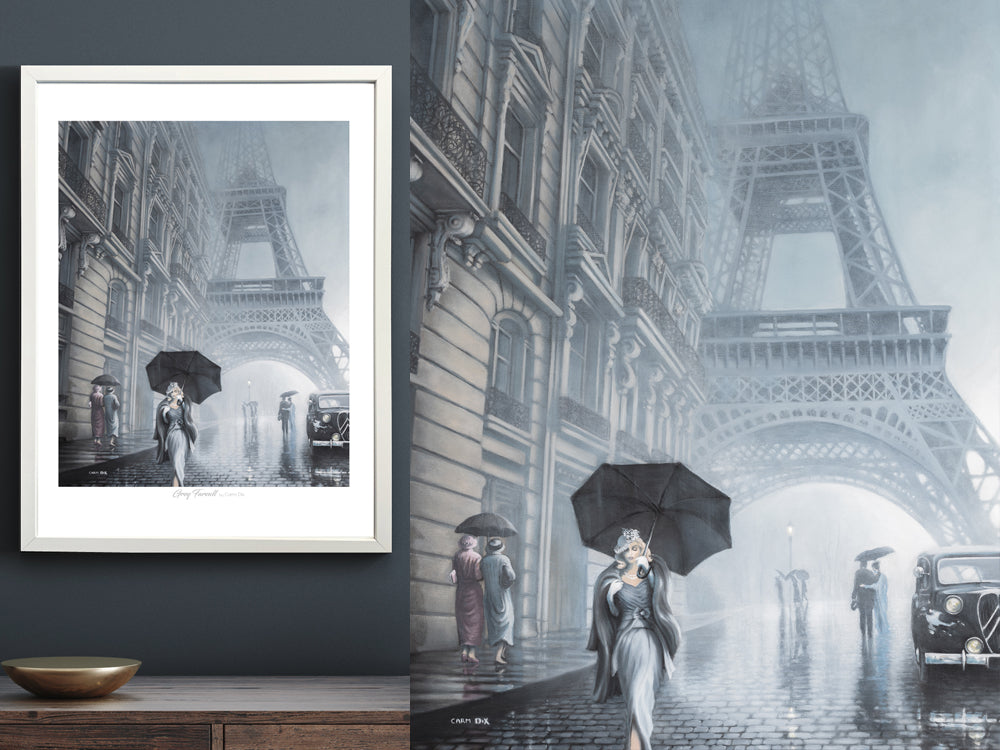 Grey Farewell
Paris Collection
A sad farewell as she walks away from him on that rainy grey day in Paris. A vintage piece sure to charm any room decor.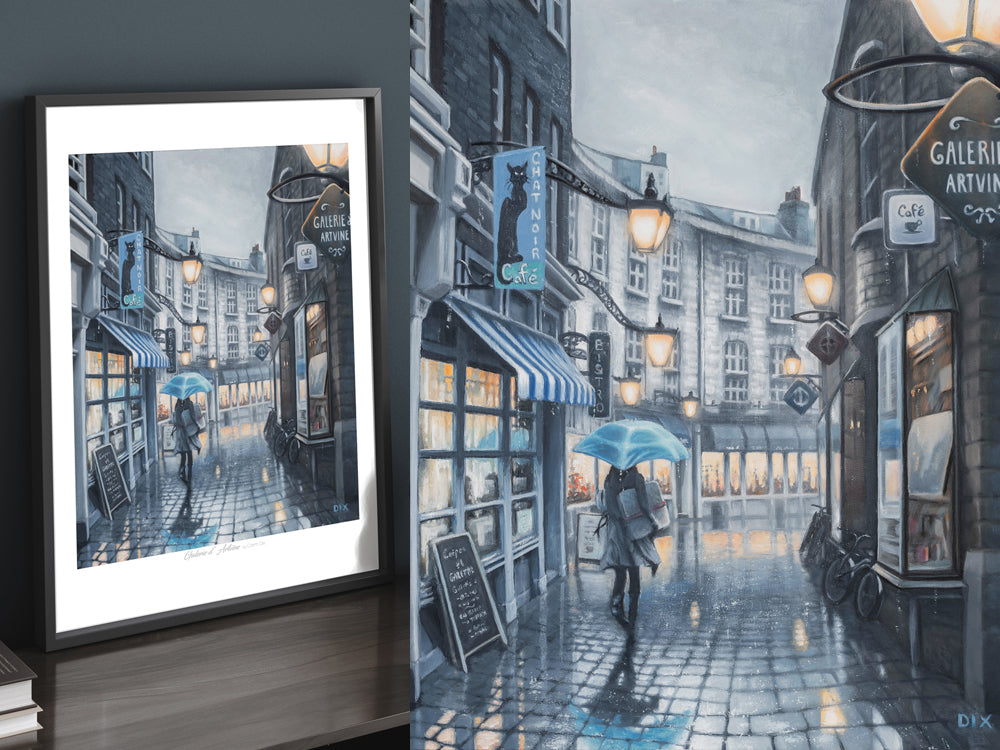 Galerie d' Artvine
Paris Collection
Rain splashes and pools on Parisian cobblestone streets, glimmering in reflections of street lanterns, cafe and shop lights. Her new gallery purchase safely under her umbrella, an elegant lady navigates her way through the rain and fog of a Paris street.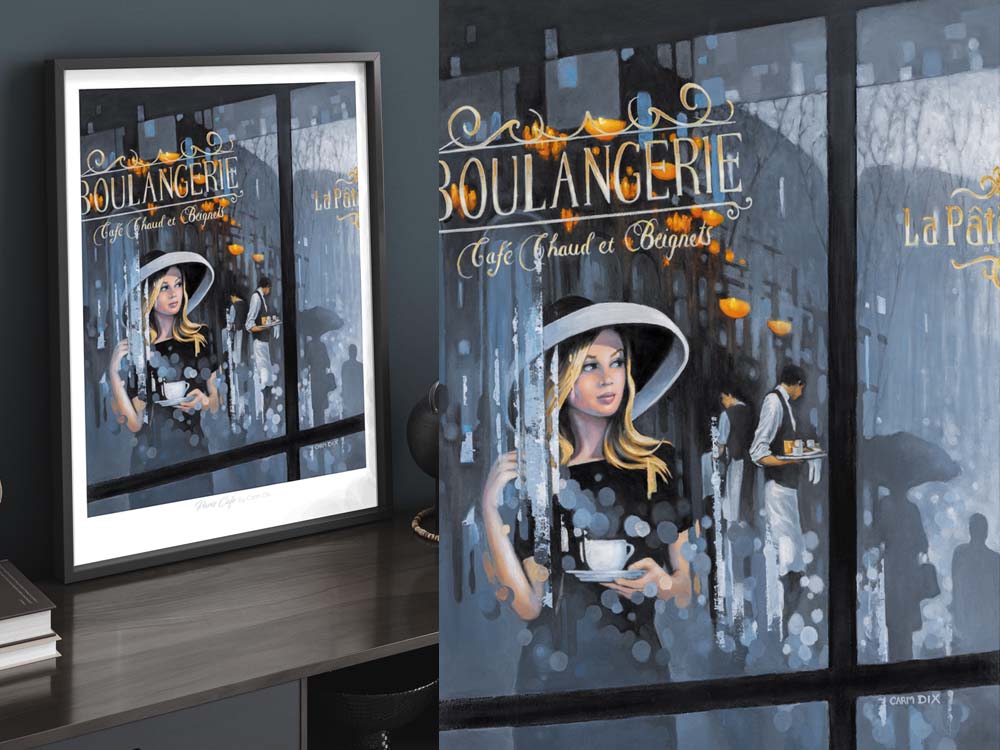 Paris Café
From the window of a busy Paris Café, rain drops blend into abstract beauty and street reflections beyond.